G.D.G -DIAMOND GRADER
Gemology course gives students with extensive, thorough when it comes to sorting and evaluation of diamonds. Using the most advanced equipment for diagnosis diamond.
More Details
ROUGH DIAMOND COURSES
Gemology course gives its students a wide and in-depth knowledge regarding the identification of crystal diamond in the rough.
More Details
GEM COURSES
Gold gemstones course provides extensive and in-depth knowledge about the gemological avoid burns precious- stones , gem identification features and differentiation between natural stones and synthetic.
More Details
About us
The AIG chain operates the Diamond College, and is your guide to success.
Professional gemological studies in:
Polished
Rough
Colored Gemstones
You can purchase the appropriate tools for diagnosing diamonds of any kind - including natural diamonds, treated diamonds and laboratory-grown diamonds.
The course is based on the standards of the AIG and is recognized by Israel's Ministry of Economy.
The college is equipped with the most advanced and state-of-the-art gemological equipment in the world.
The courses are conducted by a team of experts in the industry who have huge experience in the field.
The course leads to an internationally recognized professional certificate!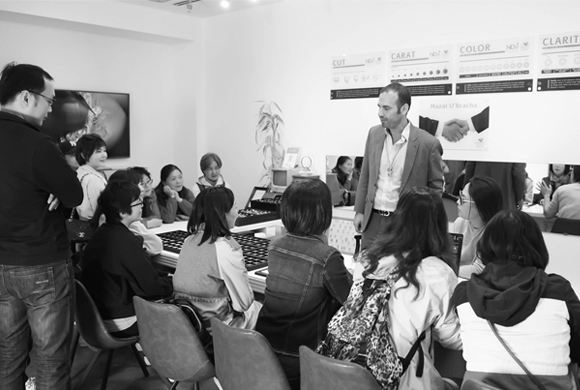 Courses available
Gemological course in documenting diamonds:
The course is suitable for:
People without any knowledge in the field and who want to join the industry
Jewelry designers / goldsmiths who want to expand their professional knowledge
Owners of jewelry stores and diamond exchange employees who want to move ahead.
The course focuses on polished diamonds and provides the basic knowledge that will give you an entrance ticket to the diamond and jewelry field.
During the course students learn:
The history of diamonds
Geology and mining methods
Diamond processing processes and material properties
Diamond documentation (determination of diamond quality) according to the strict standards of the GIA (Gemological Institute of America)
Identification of diamond treatments / imitation diamonds / synthetic diamonds.
Use of advanced gemological equipment.
Graduates of the course receive a certificate showing that they are a certified diamond grader and can enter the field as:
Gemologists in gemological laboratories / offices in the diamond exchange
Salespeople / brokers / buyers
* Accreditation in this course + certification in the colored gemstone course will lead to a certified gemologist certificate